Sales Associate
You don't want to just work at a job. You're looking for a career—a career with room for growth and earning potential. If you're serious about success, we'll support you every step of the way. We provide:
A world-class training program that is hands-on and face-to-face
Ongoing sales training to keep you up to date on the newest and best
A caring company that promotes from within and provides opportunities for advancement
The potential for franchise ownership
An environment where employees tend to stay because, quite frankly, it's a fun, supportive and fantastic place to work
Our compensation is industry best
Commission (no draw) or guaranteed hourly rate whichever is higher
Average full-time income of $48,000
Excellent compensation potential- top performers can and do earn six-figures annually
Flexible full-time and part-time hours
What you bring to the table:
Passion and drive to reach your financial and professional goals
Two years of post-secondary education or some related business experience, ideally with large-ticket items—it's not required, but it helps
A genuine love of meeting new people
A thirst for knowledge and new experiences
Flexibility to work five days a week
They want it, you've got it
At Slumberland, people don't come in just to browse. They come in to buy. As a part of our constantly growing business, you'll be working with the latest products that customers flat-out want. And as you've probably seen, we run weekly ads in a wide range of media. We want to give our customers a good experience, and that means our sales professionals will always have the right materials to be successful.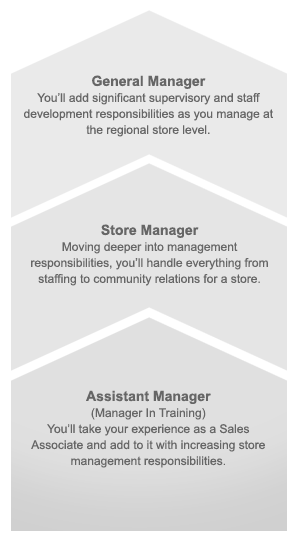 Here's one example of the professional path you can take at Slumberland.