The way we see it at Slumberland, a table is never just a table
It's a platform for making memories. For our professionals, that means everything that goes out our doors and into someone's home becomes a point of connection, the beginning of a story that will last for years. Are you ready to have that kind of impact on people's lives? Bring all your skills to the table at Slumberland.
"Daily challenges, variety in work, and knowledgeable coworkers make Slumberland a great place to work."
JENNIFER - Marketing
Mission and Values
Our mission is to improve the life of each customer. We will all work with enthusiasm and care to ensure a positive Slumberland experience.
Core Values
We conduct our business with uncompromising honesty and integrity.
We strive to provide rewarding employment.
We are committed to individual and corporate excellence and dedicated to personal growth.
We are good citizens. We encourage participation in community affairs. We donate more than 10% of our profits to organizations that assist families and youth around the corner and around the world.
We will work to grow wisely and profitably.
"I've been able to apply my skills here, and I like the variety and freedom I have."
DON, Service
Our Culture
As a family-owned company, we've always recognized the importance of putting people first, in everything we do. At Slumberland, you'll find fulfillment at work, surrounded by people who care about you and encourage you to be your best. We each play an important part in helping our customers enjoy the good life as they define it, and that means we embrace the good life ourselves—with a passion for and commitment to our work that's truly energizing and uplifting.
You're never a number at Slumberland. Even though we are a large and growing organization, we've never lost our strong feeling of family. It is reflected in the values and mission we share, and it's visible in the way we work together. Joining us, you'll appreciate that your opinions are heard, your contributions are recognized, and your goals are supported. When you take your place on our team, we'll do everything we can to give you the tools, motivation, and opportunity you need to reach your full potential.
Come join our team and find your calling. Work in an environment of collaboration and respect while helping our customers enhance the good life in their homes. This is the very essence of Slumberland. It's a good life, indeed.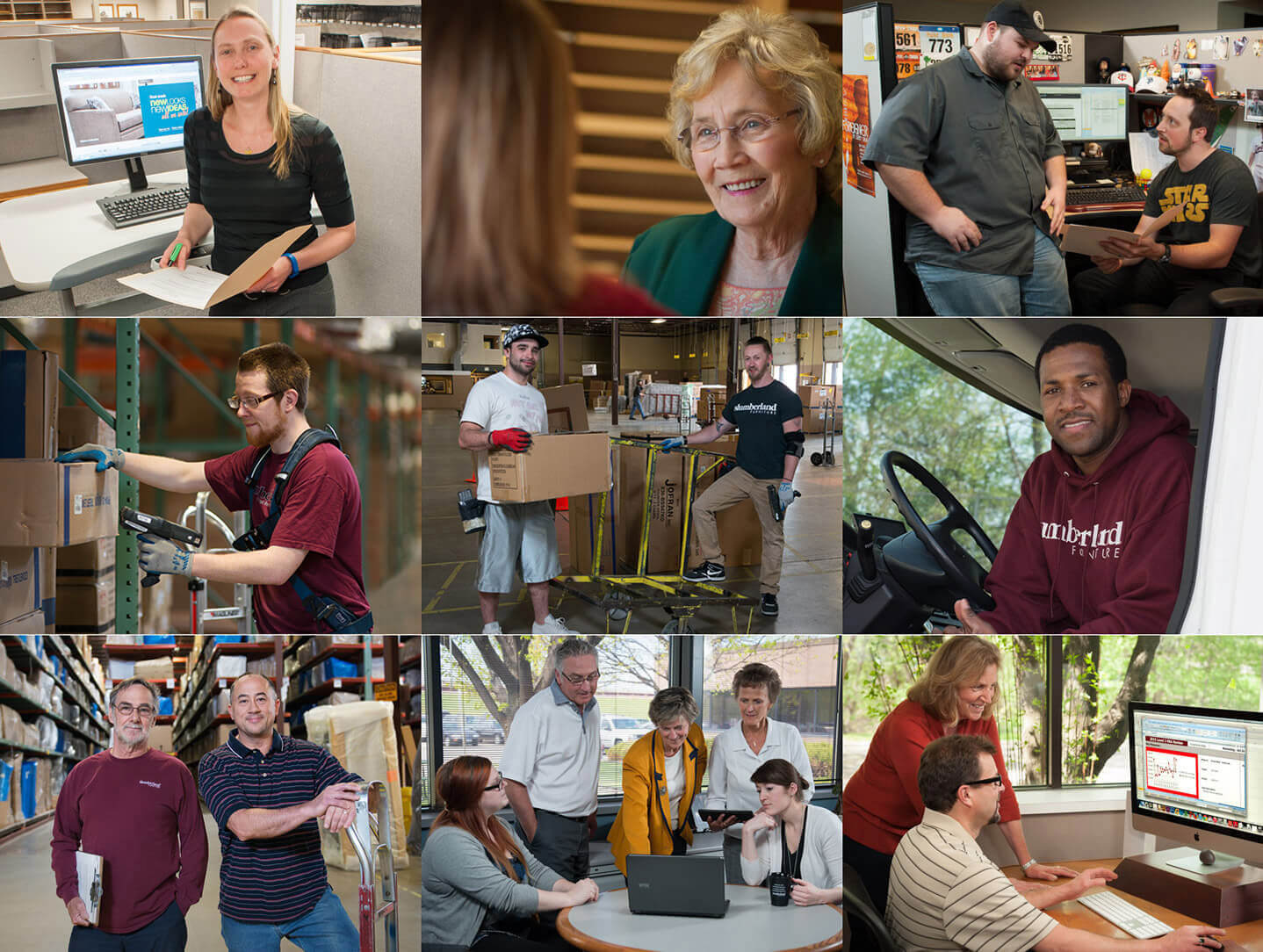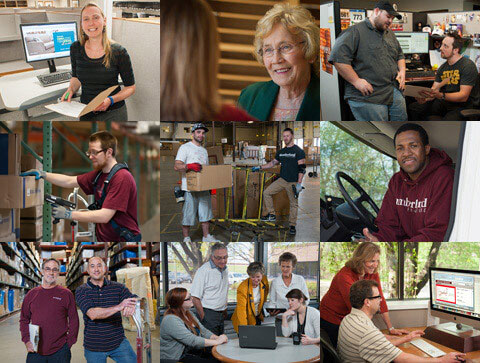 Community Giving
We all know that it's good to give back. At Slumberland, it's also an essential part of the way we do business. We believe in helping people to live a good life, and as a family-owned company, we are committed to supporting organizations that strengthen children and families in need. We donate more than 10% of our profits to organizations that assist families and youth. And we encourage all of our people to contribute their talent in support of volunteer efforts in the community.
Learn More
Sales Teams
Start your career with one of the top 20 furniture stores in the nation!
Do you have what it takes to help customers improve their homes, their health and their sense of well-being? On our team, you'll use your passion and drive to become an expert in your field—and reach your financial and professional goals. Take your place alongside professionals who are as committed to providing a positive customer experience as you are.
Learn More
Health and Well-being
Medical*

The medical plan offers comprehensive coverage, and is compatible with a Health Savings Account.

Health Savings Account*

Employees enrolled in the medical plan may be eligible for a Health Savings Account. The HSA can be used to help pay for qualifying medical, dental and vision expenses, and to save for expenses after one retires.

Dental*

The dental plan offers coverage for preventive, basic and major dental services.

Vision*

The vision plan provides coverage for an annual eye exam and eye wear, as well as discounts for corrective vision services such as LASIK.

Basic Life and Accident*

Life and accident insurance of up to $50,000 is provided at no cost.

Supplemental Life*

Employees may elect coverage up to 5 times their salary, up to a maximum of $500,000.
Supplemental Accidental Death and Dismemberment*

Employees may elect up to $500,000 of coverage. The plan provides a benefit if one survives a serious injury or dies as a result of an accident.

Disability*

Disability insurance replaces a portion of income if an employee is unable to work for a non-work related injury or illness that lasts longer than 7 days.

Medical Flexible Spending Account*

Allows one to save and pay for eligible medical expenses typically not covered by insurance.

Dependent Care Flexible Spending Account*

Allows employees to save and pay for daycare expenses for their dependent children.

Aspire Wellness Program

A variety of resources, activity challenges and education are available to help employees reach their personal well-being goals.

Employee Assistance Program

A free and confidential resource to help you face today's challenges. Offering real solutions on issues that matter to you.
Financial Well-being
Retirement Savings Plan

Save for the future. Employees can choose to save on a pre-tax or after-tax basis with our 401(k) and Roth plans.

Profit Sharing

Employees help make our business profitable. We believe in sharing a portion of the profits with you.

Tuition Reimbursement

Provides financial support for college courses that help employees develop their knowledge and skills.

Financial Choice

Free and confidential coaching to help achieve financial goals.
Membership Banking

Enjoy the privilege of discounted services and fees with membership banking through a well known national bank.

Merchandise Discount

Employees and their eligible family members may purchase Slumberland merchandise at a generous discount.

Group Discounts

Discounts are available to various businesses, venues and events.
Time Away
Paid Time Off (PTO)*

Time away from work is important for well-being and work/life balance. Employees accrue paid time off with every full pay period worked, including those who work on commission.
Other Time Off*

Life happens. In addition to PTO, we also have policies that are supportive of things such as:

Bereavement
Jury duty
Medical, Military and Personal Leave
Family Medical Leave
Holidays
Volunteerism
Employee Recognition
Service Awards

Our way of saying thank you for years of dedicated service.

Shining Star

A way for employees to nominate one another for recognition of exceptional work, and exemplifying Corporate values.
Employee Referral Bonus

A program that rewards you when Slumberland hires an individual whom you referred.
(* These benefits are available only to full-time employees.)